Purple Martin Update With Photos
Our two personal purple martin colonies I (mine and my neighbor Bob) are doing well but they have endured a significant challenge from Mother Nature. This has been the coldest spring I have ever experienced and the first week in May was a potential egg disaster with record low temperatures. Hundreds of eggs in our colonies may have been adversely impacted by the cold weather and only time will tell if they hatch as usual or do not and the martins re-nest later. Several years ago we had a freeze during April and many eggs did not hatch but the martins re-nested. As of May 10, 2013 only a few pairs of martins have small nestlings. I usually have many more babies at this time.
This season I have 392 cavities and Bob has 244. We are using a combination of commercial plastic gourds, including Troyer Horizontals with tunnels/porches and with cling plates, Troyer Verticals, Super Gourds and Excluders. We also have various aluminum houses including Trio M-12s and Castles, Trendsetters, Coates Watersedge systems, and Lone Star Goliads. Our housing has round holes, can be lowered/raised by either winch or rope and pulley, and each pole is protected from rat snakes with net traps.
As of May 10, 2013, we probably have close to 500 or more pairs of martins between our two colonies. I believe I have over 300 pairs and Bob is possibly approaching 200. Bob erected 36 new gourds on two systems back in mid-April for the SY males and he attracted a bunch of them. However, I will have a better idea of our martin occupancy levels around the first of June.
SY male martins are still arriving and causing considerable stress to the permanent residents which fight these males all the time. The SY males readily enter unguarded nests and claim the cavity; it makes NO difference to the SY male if there are eggs or nestlings inside! When the rightful occupants return, a vicious battle often occurs and the SY males are always evicted even though they may fight hard. When small martin nestlings are in the cavities, some SY males will commit infanticide and throw the babies out and try to claim the territory and female.
I took some photos of my martin colony. The first three photos show sections of my colony and the remaining ones focus on individual systems.
Here is one section of my colony.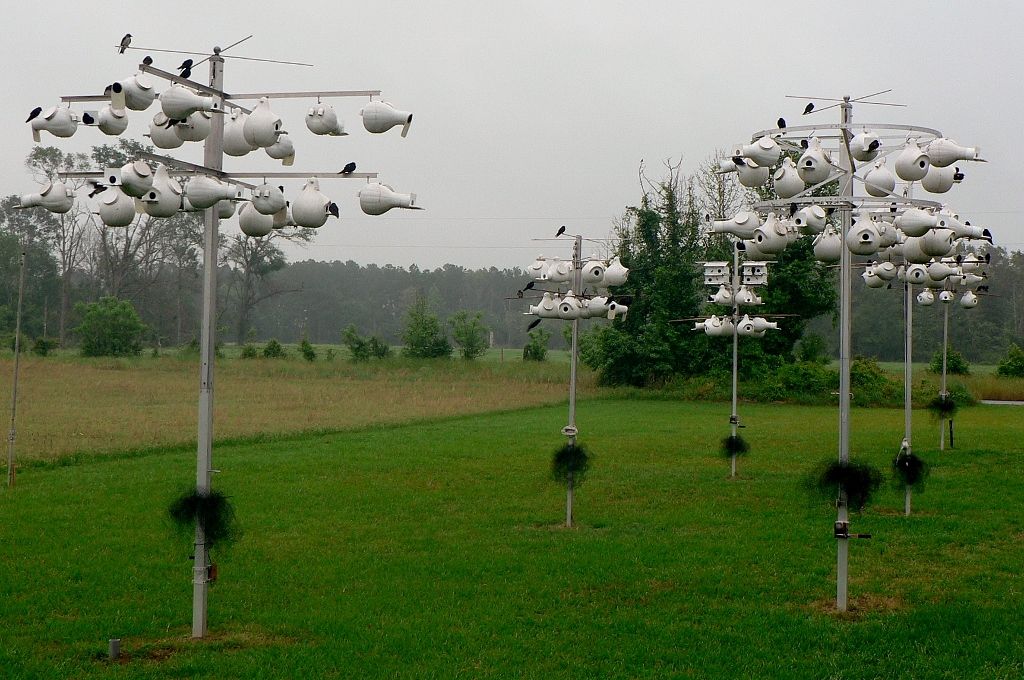 Here is another section.
And finally another section.
This photo shows my 24 Gourd Super System. It is currently 100% occupied by martins. I use a combination of Troyer Horizontals and Excluder Gourds and try to have the holes facing different directions or spaced apart. This hanging arrangement may help to minimize nest domination issues though not stop it.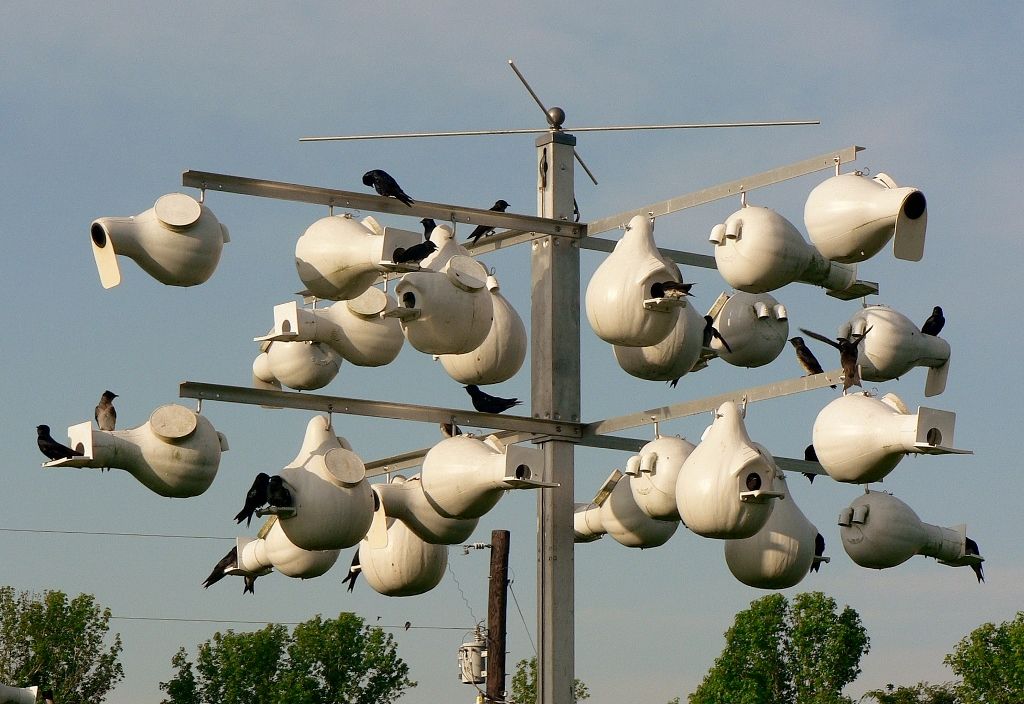 This photo shows my Gemini gourd rack with 24 gourds. It currently has 22 pairs of martins and two gourds are being dominated by aggressive ASY martins. I like using a staggered approach with a Troyer Horizontal, then a vertical type like a Super Gourd or Excluder. I like the look and this can sometimes reduce nest domination since martins may tend to control multiple gourds that are similar.
This photo shows my 36 Gourd Super System. I believe this rack currently has about 33 pairs of martins. There is still some nest domination going on. I am using a variety of gourd styles with horizontals and verticals suspended in different directions where applicable.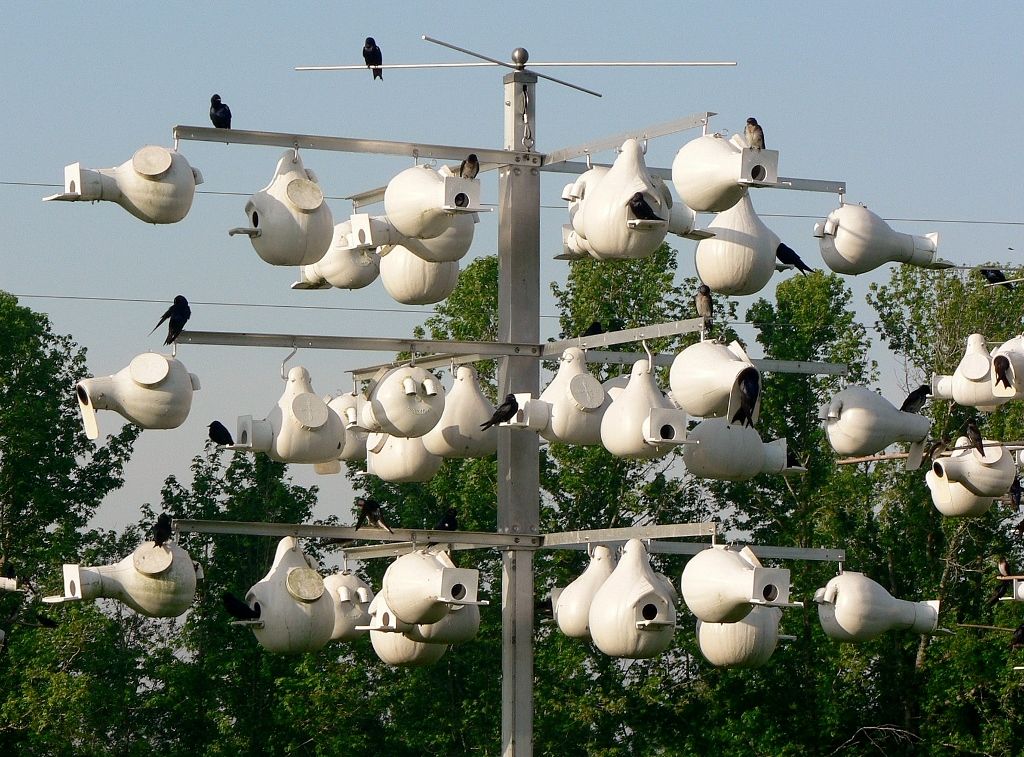 This photo shows one of my 18 Gourd Deluxe racks with a variety of gourd types and cane pole perches attached by plastic zip ties for more perching space. This rack is currently 100% occupied by martins. All my Deluxe type racks have cane pole perches attached to the gourd hanging rods. This additional perching space may make these type racks even more attractive.
This photo shows my new K 24 Gourd rack with Troyer Horizontals with tunnels/porches. I also have cane pole perches attached to the hanging rods. These cane poles provide more perching space. This system has some nest domination issues but I believe there are around 20 pairs of martins in residence. When I took this photo, a pair of cardinals decided to land on the top perch!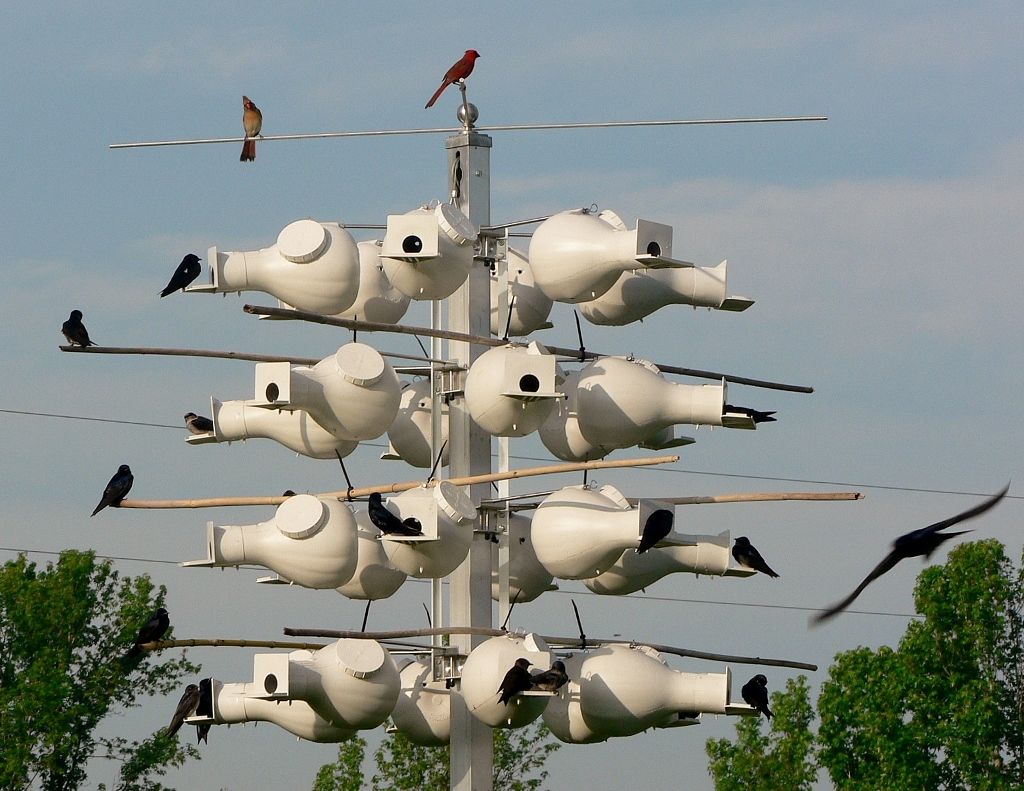 This photo shows one of my AAA 16 Gourd racks with a variety of gourd styles. It is currently 100% occupied by martins. I have two more AAA systems and both are fully occupied by martins.
Steve