Apologies for my late segue into the forum this year.
To briefly catch up, our school colony appears to have endured the late spring this year unscathed, although this far south we did not have the prolonged killing temperatures that must have been experienced further north.
The big "event" this year has been unprecedented starling pressure. In mid April three pairs in rapid succession invaded three Troyers with slightly enlarged Conley 2 entrances. And then in the space of a single week and a half I trapped out and killed twelve starling from just those three gourds. I have since replaced those entrances and the starling wave appears to have passed.
Five pairs of sparrows trapped and tail-clipped this year, one more recent gourd invasion, entrance trap set even as I speak.
Me and my students have been doing nest checks for the past four weeks, here's a pic a young man took yesterday (EVERYBODY has a camera on their phone now, and they all have phones).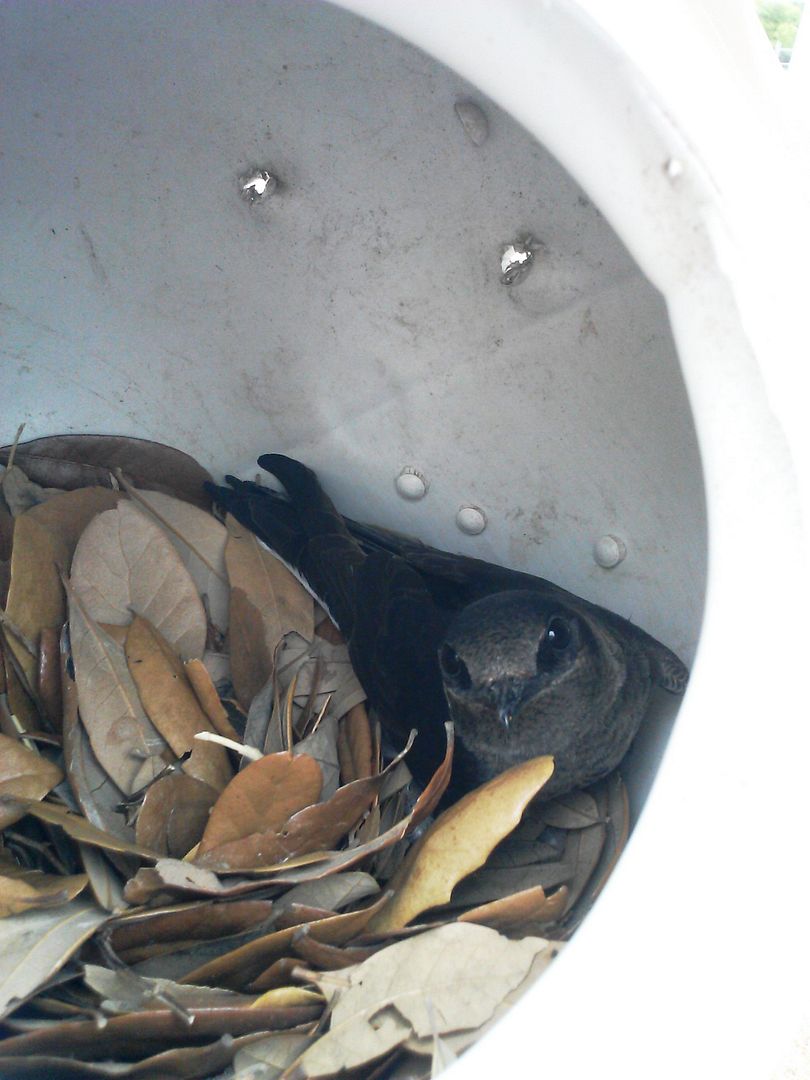 An SY female. I haven't sat out in the evening to determine the exact composition of the colony yet but we appear to have a lot of SY's this year, especially females. Likewise gourds from which sparrows and starlings were evicted have been rapidly occuppied by martins. We have only two "empty" gourds at this writing (ie. no nesting material added) and both appear to have picked up interested male martins in the last week.
Likewise, riding my bicycle into school pre-dawn I'm hearing quite a lot of dawnsong over the neighborhoods.
As of today our colony looks like this:
For our forty-nine gourds:
202 eggs among thirty-four nests.
28 young among six nests.
Six finished nests, no eggs yet.
Two gourds with no nest material added yet.
One sparrow nest.
At this point the martins appear to be doing fine. The oldest brood of nestlings hatched five days ago, five more broods hatched over the previous 48 hours, many more are due next week.
Our average clutch size, just about six eggs per nest, is very good for our colony relative to other years. How many hatched young survive to fledge though remains to be seen. Since we started keeping records in 2002 the best predictor of fledgling success has been the rainfall over the previous fall and early winter. We were pretty dry this time around.
Good to see so many familiar people posting
Best Regards,
Mike Scully