It has been ten days since I nest checked. Way way long. I was gone for a trip and so I caught up just now. So far this year I have 20 nesting pair with a couple of new nests with green leaves. Not sure what will materialize with those. Counting fledged and in the nest as of today my colony has produced 78 babies. I am posting some pics, one with a deceased baby. This sure is a hobby that isn't for you if you cannot handle a dead baby. I'm posting as a new heads up to the cause of this little one's death. But first, check out this nest. Or pile of green leaves. The parents never "built" anything but piled a huge pile of leaves and look at their success!
[/img]
I have two Trendsetters and this is a pic of some of the PM's watching me check the first house.
[/img]
I found this poor chick with a wound to it's eye area. I will be checking frequently now to see what happens when it's eyes open.
[/img]
When I rounded the second side (downwind) to check those compartments I knew I smelled decomp and what was coming. Then I found this. The alive baby was in the nest bowl (with hardly a nest) toward the front but scurried to the back. When I removed the dead baby, who obviously had been there like that a few days, I realized it's foot was snagged in the gaping side of the nest tray. Maybe the stress of not getting free did it in. It seems like you try to have everything good and nice for them but something new comes along and gets em at times.
I decided to not relocate the remaining sibling because it looks hydrated and fed. So the poor parents had to come in and take care of it without being able to remove the other one with the stuck foot. My plan is to check this one daily and make sure it is continuing to grow.
[/img]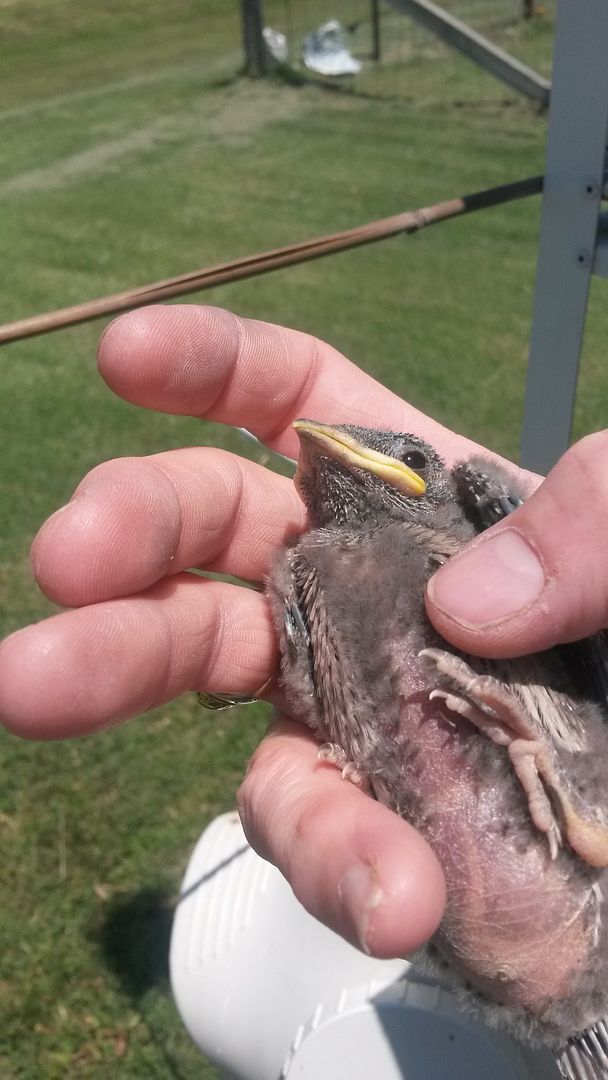 [/list]