After a long winter, the news of the return of Purple Martins in the southern US is a welcoming sign that spring is on the way. As the Purple Martins continue to venture further north in their migration, it is important to stay updated and know when they will return to your area so you can prepare for their arrival.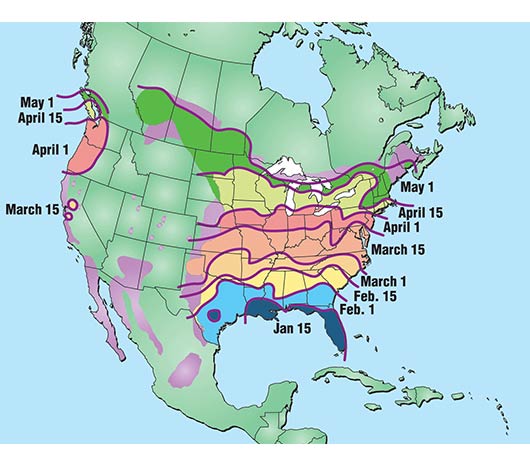 To give your martins a proper welcome home, their housing should be cleaned and raised before they return to your colony. Keep housing closed until their arrival, and open cavities as needed to prevent house sparrows and tree swallows from moving in.  A handful of dry pine straw in each cavity will not only entice your Purple Martins into moving into a cavity, it will also provide warmth on those cool spring nights.
If you are a new landlord hoping to attract your first pair, play the Dawnsong early in the morning for a few hours and place a couple decoys on your housing to help attract any birds flying over to come down and check out your site. Because adult birds exhibit site fidelity and return to the same colony each year, a new colony is generally started by sub-adult birds. These sub-adult Purple Martins migrate 4-12 weeks after the first adults.
You can follow the migration of the Purple Martins in our Scout-Arrival Study. Landlords from all over the US and Canada report the date and location of their first Purple Martin siting of the season. This map is a useful tool to estimate the arrival of Purple Martins to your area and determine the best time to open your housing. To participate you can submit your scout report on our Scout-Arrival Study page or call the PMCA at 814-833-7656.
To shop for the mentioned attraction tools or any other Purple Martin products you may need, visit our online store or give us a call.
Mercedes
PMCA Field Biologist