Photos Of My Starling Trap Pole
Believe it or not, starlings may start checking out potential nest/roosting sites in October in my area of northwest Louisiana and I have caught starlings at this time in traps. Such starlings are in their winter plumage with a heavily speckled appearance and dark beaks. Later on their beaks change to yellow and their feathers are iridescent; the males have a bluish base at their beaks and the females have a pinkish or sometimes cream colored base.
I usually start my early starling trapping program in October and this program may eliminate some of the first starlings that are in our immediate area. Fortunately we don't have a major starling problem and trapping and some shooting completely controls the starlings that may show any interest in our purple martin houses.
My starling trapping process entails two main approaches. First, I place various PMCA insert traps in one or two of my Trendsetters and at least one of my neighbor Bob's Lone Star Goliad houses. All the "trap" houses have any non-trap cavity closed while the trap cavity is open with a "deadly surprise" for any starling that enters: he/she will be trapped! All other gourds/houses are either removed and stored or lowered close to the ground making them not as attractive to starling investigations. This particular program goes from October until the first martin(s) return, usually the last of January. When martins start arriving, I remove the cavity insert traps. During that time frame I may trap as many as ten starlings though the number is usually less.
My second approach continues from October through the end of the martin breeding season and I started this method in 2016. This system involves attaching four PMCA nest box traps to an old Deluxe gourd rack hub and raising/lowering it with a rope and pulley. The traps are suspended on four horizontal hanging rods and face different directions. I have painted the traps white to better highlight the entrances. During the 2016 martin season I trapped 17 starlings in this system: 15 males and two females. I also trapped three house sparrows; however, we hardly have any sparrow problems at our two personal martin colonies.
Before using the pole approach in 2016, I would attached the PMCA nest box traps to a raised Trendsetter and trap starlings from October until the end of January. This method works similarly to the separate pole system.
This trap pole system is placed about 150 yards northwest of Bob's martin colony in an open lot that I own. Starlings often come from the north and the four nest box traps are like a biological magnet and basically "intercept" many inquisitive starlings before they even reach our martin colonies! The starlings check in but they don't check out alive!
If you have many Eastern bluebirds in your area, then they will most likely get trapped on occasion. So you MUST check your traps frequently and release any bluebirds or other native cavity nesting birds. Our bluebirds do get trapped and I have to release a number of them unharmed each season.
The PMCA offers great starling and house sparrow traps and I have used them for many years in eliminating these pest birds. My shotgun and PMCA traps have been most effective in eliminating starlings and house sparrows and none of these pests have ever caused any problems for the hundreds of martins nesting in our colonies.
Here are two photos of my starling trapping system. The first shows a close up of the four PMCA nest box traps attached to horizontal hanging rods of a Deluxe gourd rack hub. The second shows the entire trapping system which can be raised and lowered with a rope and pulley. My trapping "motel" is open for business and all starlings and house sparrows are most welcomed!
The last photo is of my "gourd-less" martin colony with all racks down and the five Trendsetters lowered. I will soon be erecting at least one Trendsetter with four PMCA Trendsetter traps installed and ready for inquisitive starlings! I am behind schedule in placing cavity traps in our housing!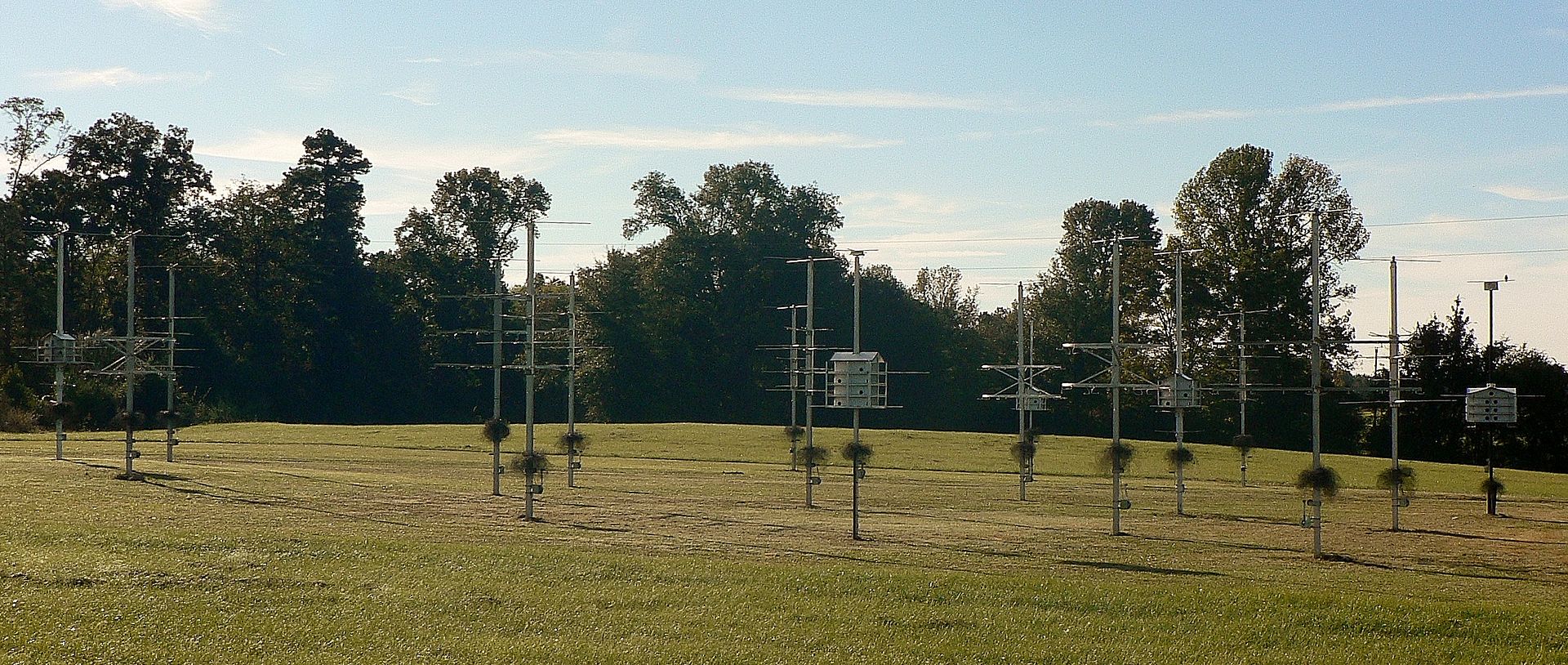 Steve