Good Start To My Early Starling Trapping Program
Well, four starlings have already met the Grim Reaper at our personal purple martin colonies and it is only mid-October! This is a good start to my early starling trapping program. I have caught four starlings in their winter plumage using PMCA metal T-14 traps in my neighbor Bob's Lone Star Goliads. These PMCA metal traps are outstanding starling catchers when you close off a bunch of compartments in a house and leave several open with the traps inside. This morning, October 14, 2014 I checked Bob's colony and sure enough three red doors were down and three starlings waiting "patiently" for their appointment with the Grim Reaper!
Every season I trap starlings in our two personal martin colonies from October through January and this program eliminates the vast majority of possible starling problems later on when the martins are here. Then I may shoot several starlings that show up. We really don't have a big starling problem anyway as starlings are not that abundant way out in the country where we live with limited nesting sites and fewer short grass environments for foraging. My early starling program has been a great success so far.
These four starlings were all in their winter attire with dark beaks and heavily speckled feathers. I can't distinguish the genders at this point based on plumage. However, the males tend to be more active in entering housing and may be more vocal. As the starling's breeding season approaches, both male and female starling's beaks begin to change to yellow. Also the base of the male's beak takes on a bluish or bluish/gray coloration while the female's becomes pinkish or cream colored. The male starling in full breeding plumage tends to be just a little more colorful than the female with more pronounced iridescent greens and purples in the feathers, but this characteristic is not that noticeable at a distance.
Starlings in our area readily start checking out possible nest sites in the fall. House sparrows will do this and so will Eastern bluebirds. So we can successfully trap both starlings and sparrows way before the martin season actually begins.
Here is a photo of the three doomed starlings on death row and waiting in their "cells" to meet their end.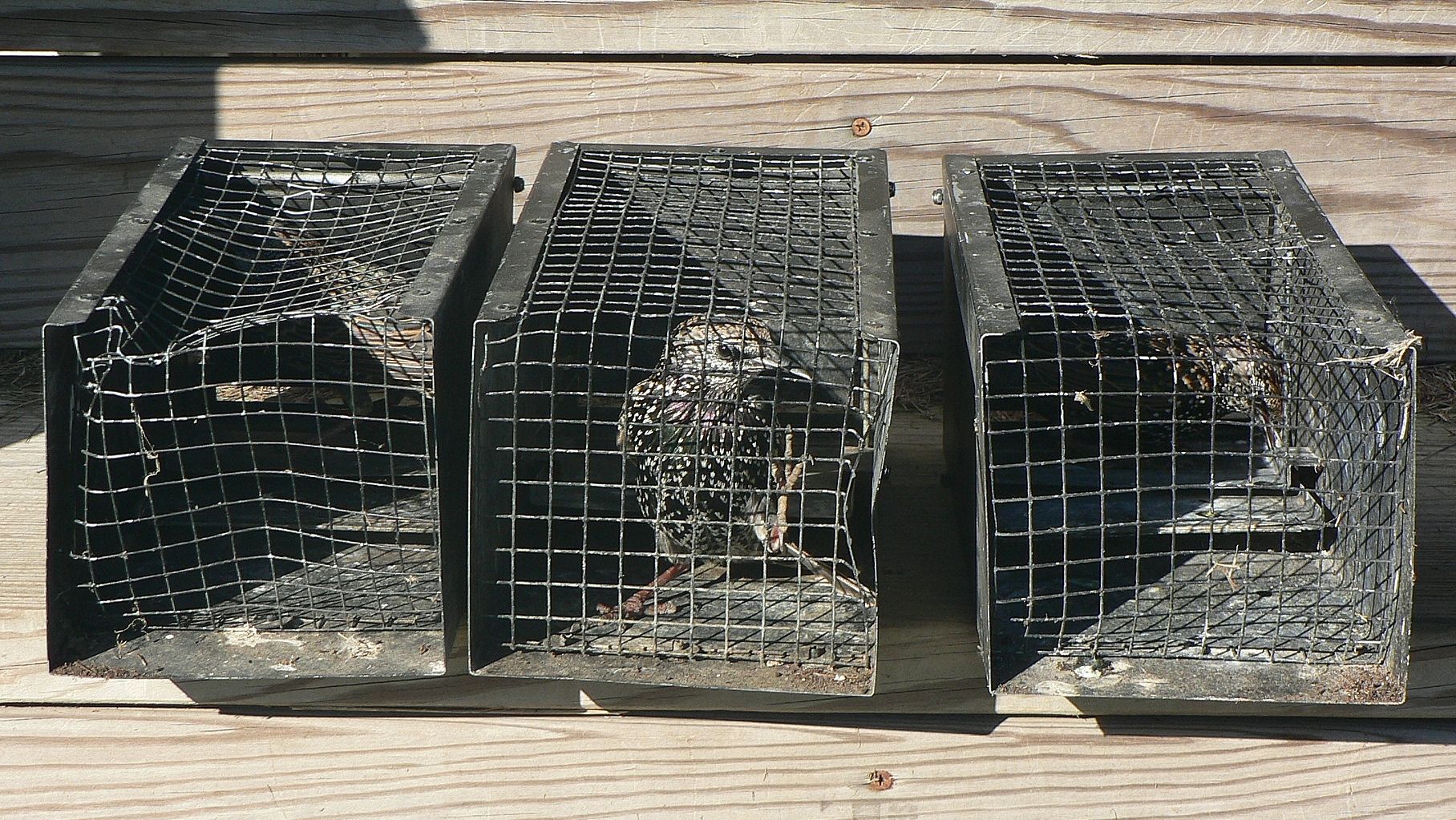 Steve