My Three Favorite Natural Gourd Styles
I quit using natural gourds in my current purple martin colony in northwest Louisiana back in 2010 and the martins readily accepted the transition to plastic gourds. Why did I quit? I just got tired of the maintenance associated with natural gourds including preparation for use and painting. The plastic gourds I use are good quality, never need painting and are easily cleaned as necessary. Plus the plastics will last much longer than the naturals and this is a huge advantage. I currently use Troyer Horizontals with cling plates and with tunnels/porches, Troyer Verticals, Super Gourds and Excluder Gourds.
However, I still greatly like natural gourds and I had used them since the 60s in my various martin colonies in north Florida and also in northwest Louisiana. Let me confess that I really like naturals better than plastic gourds! The natural gourd with its rustic, secluded interior provides a safe and well liked cavity for martins and martins have nested in naturals for hundreds of years. The natural gourd somewhat replicates the inside environment of a woodpecker cavity which martins have nested in for maybe thousands of years. I remember many years ago seeing HUGE natural gourd colonies in Georgia and the Carolinas when traveling through these states.
There are three natural gourd styles that I like the best and I have used them in the past for many years. Martins thrived in these gourds and many babies fledged from them.
Vertically Deep Woodpecker Gourd
One of my favorite natural gourds and also of the martins in my colonies was a gourd with the entrance cut high up near the neck to create vertical depth to the bottom. The gourd was also suspended at about a 45 degree angle on the crossbar. The gourd style reminded me of a vertically deep woodpecker cavity so I called it a woodpecker gourd. The entrance was cut anywhere from six to about ten inches above the gourd bottom so that the martins were deep inside their nest and not visible from the outside. Martins never built their nests all the way to top of the gourd so that the martins would be visible in front of the entrance; female martins may prefer to be as less conspicuous as possible while incubating eggs or brooding small nestlings. In fact I built pre-nests of pine straw that were around three inches thick and all the martins tended to add were oak leaves. Martins can easily climb up the coarse gourd wall to reach the entrance hole just like they would inside a woodpecker cavity. Initially I didn't have any kind of perch near the entrance but later on started adding wooden perches so the parent martins could more easily feed large babies that would cluster around the entrance. Martins nesting in my woodpecker gourds were deep inside and largely out of view and reach of owls and hawks just like martins would be in a natural woodpecker cavity.
Funnel Gourd
Some natural gourds with long thick necks make excellent nesting cavities for martins. I call these funnel rather than tunnel gourds because the entrance area gradually widens like a funnel before reaching the nesting chamber. In these gourds, I cut off the neck area to create about a two inch or little more diameter entrance to a funnel that may extend three to six inches or more in length. In some of the gourds, the funnel area pointed a little downward. These gourds could be over 12 inches in horizontal length and remind me somewhat of the Troyer Horizontal. To make it easier for martins to enter the entrance, I later attached No. 10 plastic coated wire perches just under the entrance. This perch worked perfectly to allow martins to enter and later on feed their large babies when they peered out. Martins nesting in these gourds were largely out of view and reach of owls and hawks. The narrow funnel entrance hole is restrictive and helps create a secluded and protective nesting chamber.
Horizontal Gourd With Entrance Cut On Neck Side
Elongated natural gourds make good horizontal gourds with the entrance cut in the neck to create an offset approach. In these gourds, the martins would enter and then hang a 90 degree turn to crawl down to their deep nesting chamber. Horizontal depth varied depending on the size of the gourd but tended to average around 12 inches. Martins were largely out of view and reach of owls and hawks. Just like with my woodpecker and funnel naturals, I started adding a perch just under the entrance to facilitate entering and feeding young.
I also used many naturals that were similar in style to Super Gourds and related commercial gourds. Martins thrived in them, too.
Naturals can be modified with rain canopies, access ports, porches/perches, and tunnels and I have done all that with my natural gourds. You can use tunnels with srehs if you like with such gourds. I only use round holes in my personal martin colony as I have a minor starling problem that is easily controlled via trapping/shooting.
Maybe in the future I will go "nostalgic" and add some natural gourds to my martin colony. Perhaps have one gourd rack with all naturals and see how the martins respond.
I have included photos of woodpecker, funnel, and horizontal natural gourds.
Vertically Deep Woodpecker Gourd With Pair Of Martins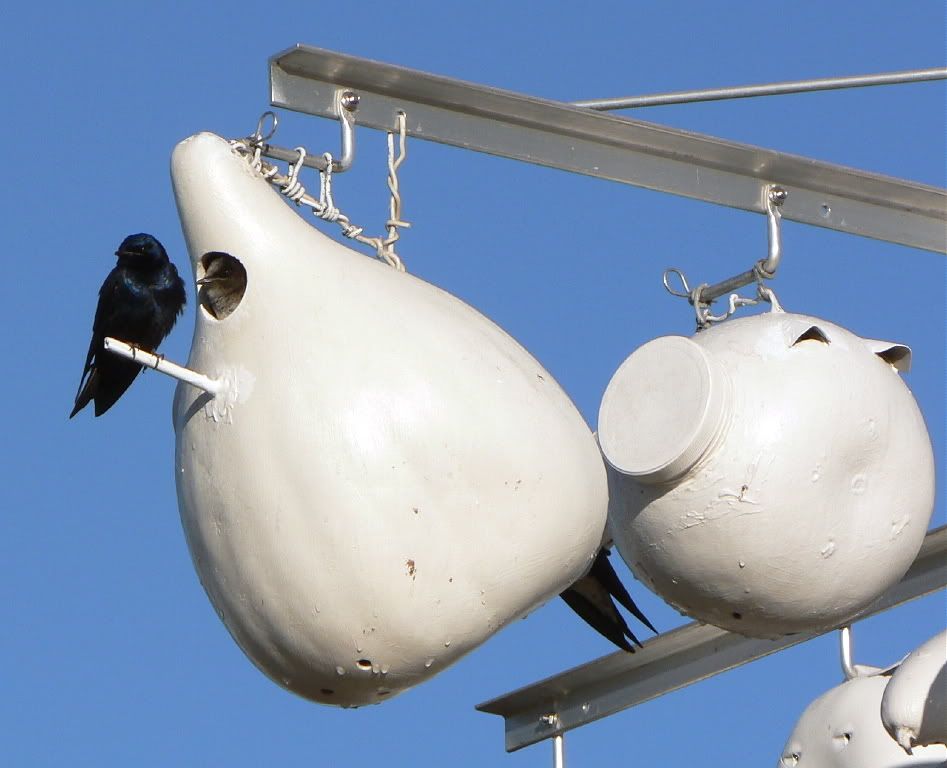 Funnel Gourd With ASY Male Martin Peering Out Entrance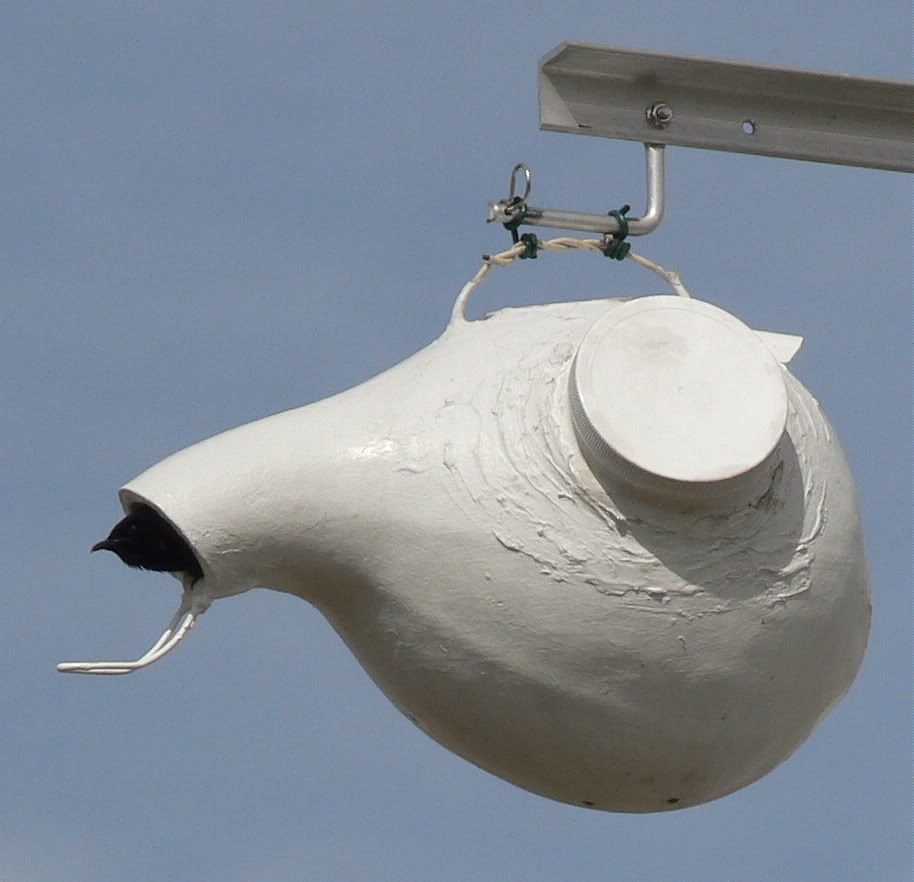 Horizontal Gourd With Entrance Cut On Neck Side And Pair Of Martins