Once upon a time (2 years ago) I bought a Blaine's with high hope of trapping HOSP until they were all gone. I live on a farm and had one problem. This is it:
Barn kitties which I love too. If I had a HOSP in the trap the cats would harass it and even though it will be a goner I didn't want them tortured so I never used the Blaine's. I trap in the house and shoot with some success but not big scale like I want/need. This year my husband, Mark, did this: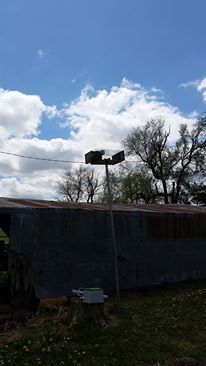 Using my old tri-tel pole which hadn't been used for 3 years, he welded it onto a metal grid plate and fastened that to the house. We are able to raise it up. I didn't like the location he chose, no doubt by that stump so he doesn't have to mow around it, but it is right near where I feed the cats in the old lean-to. I trapped two pairs from the houses (woohoo) and put them in the Blaine's. They drew 6+ more in! I still want to move it a little closer to my martin house area and run the pole in our fence line.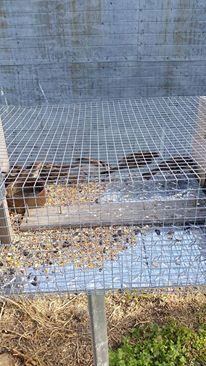 I struggle with eliminating in my hand. I feel their heart beat and well I just struggle. Although I have done it with the squeeze method. With this I am not off of the hook but I can house trap, move to Blaine's, and Mark will take care of that part for me! Winning.
Deb